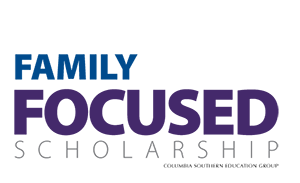 The Air Force core values of Integrity First, Service Before Self and Excellence in All We Do are lived by spouses in their day-to-day lives, caring for their family and loved ones as they serve behind the scenes.
Columbia Southern University is proud to support the Air Force Sergeants Association (AFSA) Gives Back program through the Family Focused Scholarship.
Scholarship Details
The scholarship will cover up to $26,100 in one online degree program. The scholarship will be directly applied to the recipient's tuition for up to 60 semester hours or 36 consecutive months in the selected online degree program, whichever comes first. This scholarship covers tuition only.
Eligibility
The Family Focused Scholarship is open to all Air Force Sergeants Association members in the family member (FM) category. Applicants must demonstrate how receiving the scholarship would add to their lives and how the scholarship would help them meet their educational goals.
Eligible candidates must have a high school transcript or equivalent (GED).
Scholarship applicants must be available to begin their coursework within six months of the date of the award.
Capable of maintaining a 2.0 undergraduate GPA or 3.0 graduate GPA
Students who have previous college experience must meet academic requirements for admission to the university
Remain in good standing with the university throughout his or her degree program
Current students must already meet these requirements for consideration
Acceptable Verification Documentation Includes:
Copy of a Tricare Card
Copy of Orders
Letter from the Military Member's Command
Application Period
The scholarship application will open on January 1, 2023. All applications/scholarship essays must be received no later than 11:59 p.m. on June 9, 2023.The selection process will end on June 27, 2023.
Applications will be evaluated exclusively by executive staff members of Columbia Southern Education Group and verified via the AFSA. Notification of selection will be made to the awardee within 14 business days upon completion of the selection process and verification by all parties that the awardee is eligible to receive the scholarship.
Application
After we receive your application, we will send you a confirmation email about the scholarship program.
---